Welcome to the Start of Studies for Internationals at KIT
The Welcome & Integration Team of the International Students Office welcomes you warmly to KIT- We offer you various welcome and information formats in the period from April 4 to April 15, 2022. Here you can make first contacts with other students and get the most important information about the start of your studies. Both registrations for events and information material are made available to you on the ILIAS learning platform.
ILIAS access and information
If you do not yet have access to ILIAS, you can obtain a registration code for a temporary account here. On the magazine page of ILIAS, please select International (at the bottom), then Studienstart International.
In the section Veranstaltungen/Events you will find all dates in chronological order with the possibility to register.
In the section Wichtigste Infos/Most Important Information you will find a checklist for your first 11 steps at KIT.
In the following, you will find all event dates clearly presented in weekly schedules. For details on the events, please click on the corresponding event. For insurance reasons, the face-to-face events are unfortunately only open to enrolled students. This restriction does not apply to online events.
The Welcome & Integration Team has created the presentation series "Start of Studies for Internationals" (Studienstart International at KIT). This info series contains the most important information about your start of studies and has been made available on the learning platform ILIAS.
Program
Please click on the formats to see the details and to access the link to the registration.
Further offers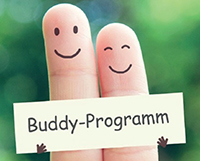 International Buddy Program
Don't get lonly, register with the International Buddy-Program! Here you will always find things to undertake and people, who would like to meet you.
Link to Buddy-Program
Orientation Week
Most of the student bodies of the faculties offer an Orientation Week before the start of the lectures. Here you can get to know your future fellow students. Registration at AStA's website. 
Campus Management Portal for Students
The Campus Management Portal for Students is KIT's online student service portal. Here, you can download enrollment certificates, the-KVV pass for public transportation, do your re-enrollment before the start of each semester, communicate address changes to us etc. In case you have questions about how to use the portal, you can find answers in our manual (PDF), which contains helpful explanations to the most important questions.
Newsletter for international students
We send the newsletter about 2-3 times in the semester. The newsletter containts information about events of the International Students Office and general information about the studies. Registration for the newsletter.
Students with refugee status
Information for students with refugee status can be found here. Students can gladly turn to the coordination office for refugees and migrants at KIT under migrants∂intl.kit.edu and schedule a meeting. A contact person is available at the Studierendenwerk as well.