First steps and Enrollment
Before you can begin your studies, you must first enrol at the International Students Office.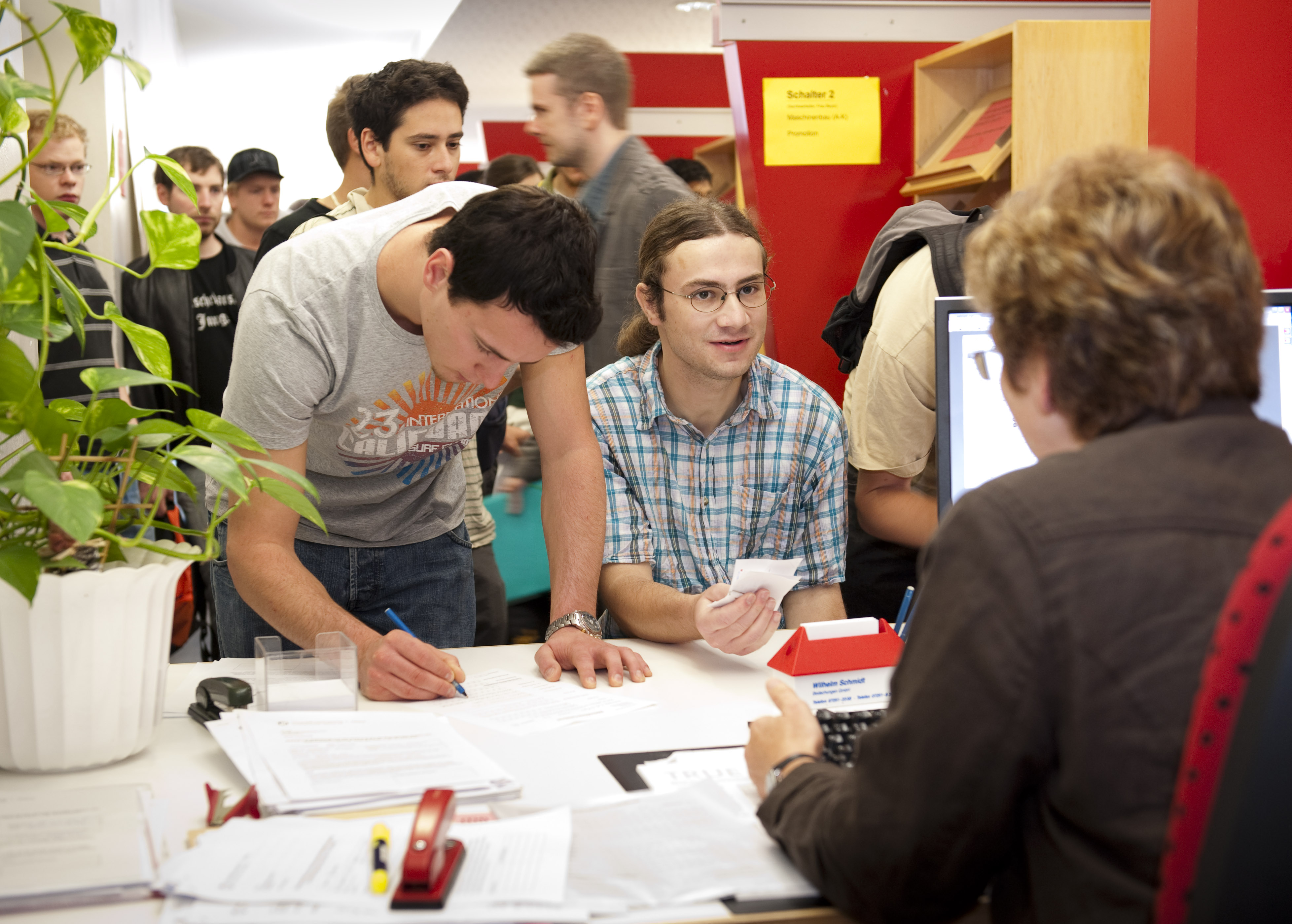 First steps at KIT
Welcome to KIT!
New surroundings, new culture and a new language – those are a lot new impressions which you, as a new student at KIT, will have to handle.
In order to make your start as easy as possible, on the following pages we have brought together information about enrollment at KIT, necessary visits to local authorities, insurance, etc. Should you have any questions or queries, do not hesitate to get in touch with us. Make a phone call or come over the International Students Office.
This is a short list of the most important things you should do on arrival to Karlsruhe:
register at the City of Karlsruhe
open a bank account
register for a German health insurance or obtain a insurance waiver at a German health insurance
pay the semester contribution (in case your have not done that from back home)
apply for a residence permit at the Foreigners' Registration Office in Karlsruhe (in case you need a residence permit)
There are several services for a succesfull start of your studies, for example the Buddy-Program oder from your faculty.
Enrollment at KIT for international Bachelor and Master Students
1. Personal Enrollment - cancelled for November 2020
With your admission, you are entitled to obtaining a place to study. Starting November 2nd, 2020, we will not be able to offer enrollment in person. If you are already in Germany, please contact your official in charge.
Please note: Many countries are currently considered risk areas. Further information on entering Germany from these areas at the end of this message. If you enter from a risk area and cannot come for personal enrolment by mid November because of a need of quarantine, you can enroll online and follow those steps. In this specific case you do need a health insurance in Germany and a visa or residence permit.
At the moment, we are not offering enrollment appointments.
For enrollment, you will need these documents:
https://www.intl.kit.edu/download/Antrag%20auf%20Einschreibung%20SS20.pdf
2. Hardship Case: Online Enrollment
In justified cases, you can send us your documents by email and enroll at KIT, although you are not allowed to enter Germany and to come to KIT. One reason may be that the German embassy in your home country is closed or that no flights are offered by mid-November. Expensive flights are unfortunately no reason justifying an online enrollment. You can also enroll online if you have to go into quarantine after entering Germany and cannot come to the International Students Office in person before mid November.
In addition, we will need a confirmation that you cannot travel to Germany and come to KIT. This may be the email correspondence with the embassy in your country or recently made screenshots with a link to information on the closure of the embassy or lacking flights, if applicable.
You are not entitled to enrolling online! Please be aware that we cannot guarantee that all courses can be studied online to the complete extent. Up to 40% of the courses in the winter semester 2020/2021 at KIT will take place on campus with the participants being present. Kindly understand that we cannot tell you exactly which courses these will be. Written and oral examinations will also be carried out on campus with all parties involved being present. Further information may be obtained from the contact persons for students of your program: https://www.sle.kit.edu/english/vorstudium/59.php
For online enrollment, you will need the following documents. Send them as PDF files to the officer indicated (see letter of admission):
Please note: If you enter Germany at a later point of time, you will have to retroactively pay health insurance fees for the current semester.
3. Information on Entering Germany and Quarantine Regulations
If you come to Germany from a risk area, you will first be obliged to self-isolate at home for 14 days. In case you can present a negative Corona test, you will not be subject to quarantine. The test result must not be older than 48 hours. You can make a test prior to your departure or after your entry of Germany. At many German airports, test stations exist. If your test result is positive, you will have to isolate in quarantine directly for 14 days. Then, it will also be impossible to personally enroll with us.
The risk areas are obvious from this list of the Robert Koch Institute (RKI): https://www.rki.de/EN/Home/homepage_node.html
Among the risk areas are many countries outside of Europe. If you have questions about the quarantine regulations, directly contact the health authority responsible for you: https://tools.rki.de/plztool/ (in German). Since August 8, 2020, persons coming from risk areas have been obliged to undergo Covid-19 tests.
Please also note the information on the following websites:
In addition, we recommend to use the Corona warning app in Germany: https://www.bundesregierung.de/breg-en/issues