First steps and Enrollment
Before you can begin your studies, you must first enrol at the International Students Office.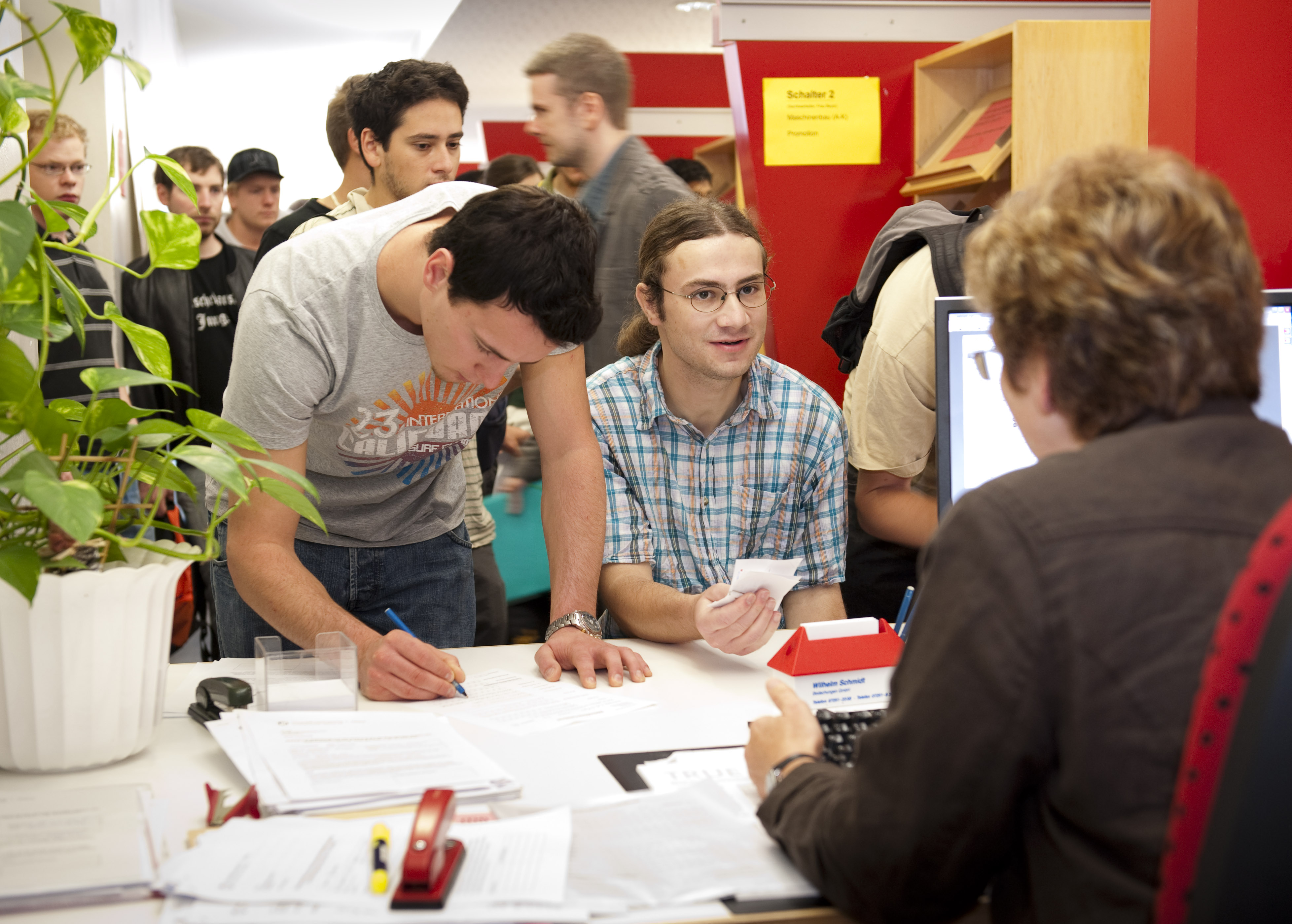 First steps at KIT
Welcome to KIT!
New surroundings, new culture and a new language – those are a lot new impressions which you, as a new student at KIT, will have to handle.
In order to make your start as easy as possible, on the following pages we have brought together information about enrollment at KIT, necessary visits to local authorities, insurance, etc. Should you have any questions or queries, do not hesitate to get in touch with us. Make a phone call or come over the International Students Office.
This is a short list of the most important things you should do on arrival to Karlsruhe:
register at the City of Karlsruhe
open a bank account
register for a German health insurance or obtain a insurance waiver at a German health insurance
pay the semester contribution (in case your have not done that from back home)
apply for a residence permit at the Foreigners' Registration Office in Karlsruhe (in case you need a residence permit)
There are several services for a succesfull start of your studies, for example the Buddy-Program oder from your faculty.
Enrollment at KIT for international Bachelor and Master Students
1. Enrollment for the summer term 2022
With your admission you are entitled to obtain a place to study. Enrollment will be done either in presence or online. Please consult this website in early March 2022 to learn about the madalities for enrollment for the summer term.
If you come to Germany please take note of the entrance regulations for entering in Germany and for your stay in Karlsruhe. Further information on entering Germany from risk areas below.
For enrollment you will need these documents:
Identity card or passport
If you are in Germany or if you arrive in Germany: Valid visa with entry stamp OR residence title (eAT) with additional sheet or probationary permit
If you are in Germany or if you arrive in Germany: Health insurance – You need to have a health insurance coverage from a German public health insurance before enrolment. You can apply online. For enrolment the health insurance company needs to send the "Meldegrund M10 für das Karlsruher Institut für Technologie" electronically to KIT.
Certificate of payment of the semester charge and tuition fees
Completed and signed application for enrollment
School or Bachelor certificate and transcript (original)
Exmatriculation certificate, if you were enrolled at a German university before
Language proficiency certificate (original)
For enrolment in a Bachelor's program: Proof of study orientation test (eg. www.was-studiere-ich.de)
2. Information on Entering Germany and Quarantine Regulations
Please check the newest information to enter in Germany and the newest list of risk areas from the Robert Koch Institute (RKI) page: https://www.rki.de/EN/Home/homepage_node.html . Among the risk areas are many countries inside and outside of Europe. If you have questions about the quarantine regulations, directly contact the health authority responsible for you: https://tools.rki.de/plztool/ (in German).
Please also note the information on the following websites:
In addition, we recommend to use the Corona warning app in Germany: https://www.bundesregierung.de/breg-en/issues