Ask me Anything (open online consultation)
Every Thursday from 13 to 14 h on Wonder.Me.
Guest password: askmeanythingWS21
Please note:   next session AMA on January,12 2023
The international Students Office is offering the following desks and open for general questions: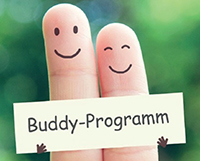 International students meet local students
The international Buddy Program organises meetings for exchange in all kinds of formats. You can talk to us about your personal participation, about existing activities and suggest new ones. Link to Buddy-Program
About your place at KIT
Questions about KIT administration, tuition fees, re-registration?
We have got the answers.
For uncommon and difficult situations
stuck in your studies? money trouble? expiring residence permit?
Talk to us, rather sooner than later.
Coordination office for the integration of refugees and migrants
The coordination office is the central point of contact at KIT for prospective students and students with a refugee or migration status.
Become aware of your competences, and know how use them
At any stage of your studies, have a first talk and find out, whether the structured approach (Profilpass)