China Initiative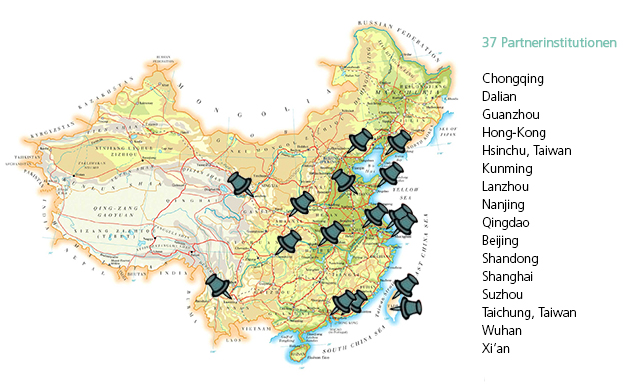 The People's Republic of China is of high strategic interest to KIT due to its enormous economic power, as well as its rapid development in the fields of science and research. In order to station KIT's concerns in this context, it is the distinguished goal of the KIT China Strategy
to position KIT in China as preferred partner and contractor in the fields of manufacturing, mobility, nanosciences, microsciences, biosciences, and photonics, as well as climate and environment
to promote personnel exchanges (brain circulation) and talented young academics for KIT to offer increased visibility, an information platform and concerted marketing, and lift synergies for the many individual research collaborations with Chinese partners under the umbrella brand KIT
to benefit from demand and dynamic development in China for the positioning and joint development of technologies, as well as participation in research infrastructures and the using of third-party funds
Cooperations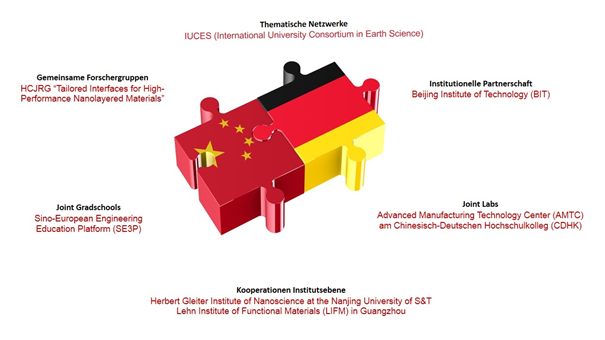 Das KIT möchte sein Engagement in China verstärken und strategisch ausrichten. Vier der mehr als 40 bestehenden Universitätspartnerschaften sollen dafür strategisch entwickelt werden. Die bisherige Zusammenarbeit mit der Nanjing University of Science and Technology, Shanghai Jiao Tong University, Soochow University und Tongji Universität Shanghai soll über zunächst bilaterale strategische Partnerschaften zu einem strategischen Netzwerk mit vielfältigen thematischen Bezügen und starkem Innovationsfokus ausgebaut werden. Durch wissenschaftliche Leuchtturmprojekte, gemeinsame Drittmitteleinwerbung und marktrelevante Technologieentwicklung werden Spitzenpositionen in punkto Forschungs- und Innovationsstärke sowie eine erhöhte Sichtbarkeit und Attraktivität der beteiligten Hochschulen angestrebt. Graduierten- und Doppelabschlussprogramme, Qualifizierungsangebote sowie Mobilität und Abstimmung über alle universitären Ebenen hinweg ergänzen die strategische Zusammenarbeit.
Zusammen mit den Hochschul- und privilegierten Unternehmenspartnern soll eine interdisziplinäre Forschungs- und Innovationsplattform in Jiangsu und dem Großraum Shanghai aufgebaut werden, die:
insbesondere die profilbildenden Themenfelder des KIT stärkt und sichtbar in China positioniert
den Zugang zu Forschungsinfrastrukturen, Projekten und Drittmitteln erleichtert
Brücken zu weiteren Partnern in China ermöglicht
Technologietransfer unterstützt, und
Ausgangspunkt dt.-chinesischer Gründer-Tandems und Spin-Offs ist.
Eine deutsch-chinesische Lernfabrik "Globale Produktion, Zukunftstechnologien, Umwelt und Nachhaltigkeit" soll die Forschungs- und Innovationsaktivitäten der Partner mit passenden Qualifizierungsangeboten ergänzen. Auch für gemeinsame Graduiertenprogramme können Spezialkurse, Summer Schools oder Trainings angeboten werden. Angebote der Lernfabrik sind für lokale Unternehmen und externe "Kunden" nur im Rahmen eines KIT-Geschäftsmodells nutzbar.
Die KIT-Repräsentanz in Suzhou, Joint Labs an der Nanjing University of Science and Technology sowie das wbk-AMTC in Shanghai werden als strategische Präsenzachse (d.h. bevorzugte Anlaufstelle für Mobilitätsmaßnahmen und gemeinsame Veranstaltungen und Marketing) ausgebaut.

Find the KIT Intranet for KIT stakeholders here.
If you have any questions about cooperations with Chinese partners, please contact:
Jie Han
KIT Coordinator Strategic Partnerships China
INTL - Regional Strategy & Information
Tel.: +49 721 608-41928
E-Mail: jie.han∂kit.edu
KIT China Branch in Suzhou
Since May 2014 the Karlsruhe Institute for Technology offers its scientists and their Chinese cooperation partners an interdisciplinary platform, incubator, and contact office in Suzhou (more)
The opening was celebrated together with Chinese partners and guests from academic and research institutions as well as representatives from politics and the business sector:
Professor Detlef Löhe, Vizepräsident für Forschung und Information des KIT (vorne re.) eröffnet die neue KIT-Repräsentanz in China. (Foto: wbk, KIT)
Introduction to the business sector flanking and cooperating with the KIT-China Branch: Suzhou Industrial Park