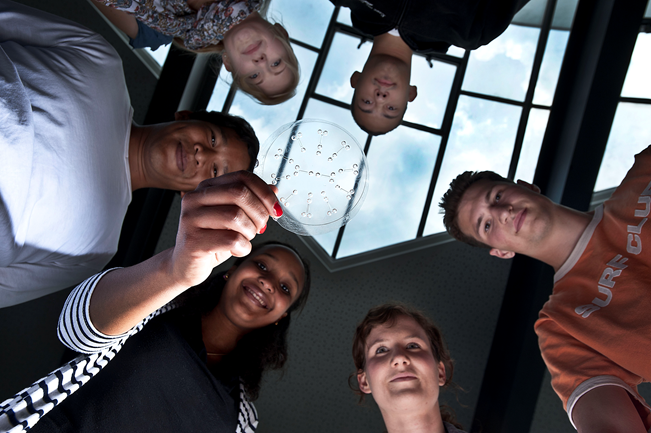 For more detailed information please have a look at our intern handbook available via the navigation on the left side.
Finding an internship
KIT offers numerous opportunities for an internship/placement, a research project and/or a final thesis project.
As you might already know, KIT is divided into a university and a research center.
If you are interested in doing an internship or a project in our university, you need to look for a potential supervisor at KIT on your own and contact him/her directly.
You can find further information and internship offers etc. at our departments' sites accessible via www.kit.edu/kit/english/departments.php.
If you are interested in doing an internship in one of our institutes at our research center (http://www.kit.edu/research/helmholtz_programs.php), please check here.
Of course, it is also possible that you might find interesting positions in both the university and the research part of KIT.
Depending on your supervisor at KIT, it might be possible to do your internship/thesis without German knowledge, but this is the decision of your supervisor.
Still, we advise applicants to have at least basic German knowledge, since daily life and administrative procedure in Karlsruhe are in German.
Preparing your arrival at KIT
After having found a supervisor, you have the possibility to enroll at KIT as a student. With an admission permit you could apply for a student visa.
A visa for Germany is always issued for a specific purpose. Please note that without enrollment your stay with a visa for studying is not legal in Germany.
There are many advantages for an enrollment. As a KIT student, you will be able to benefit from cheaper cafeteria rates, library access, cheaper public transportation tickets etc. Enrollment fee is approx. 140€ per semester. There are no tuition fees at KIT!
We recommend enrollment for an internship equal to or longer than 2 months.
If you would like to enroll, please follow these steps:
Apply online at https://move.intl.kit.edu/move/moveonline/incoming/welcome.php?_language=en
You will have to choose the "mobility type" "Internship/Project/Thesis" and the the "mobility program" "Internship/Placement".
Your "Faculty", "Field of Study" and "Study Area" depend on your supervisor. Please ask him/her which faculty and fields he/she is closest to/associated with.
The mobility period can be one or two semesters. You can find our semester dates at http://www.intl.kit.edu/istudies/3157.php.

Once you have filled in the application a PDF will be generated. Please print it out, sign it (we only need your signature, not that of your supervisor at home) and scan it.

Send the following documents to internship∂intl.kit.edu:

scanned online application PDF,

current enrollment certificate/ proof of enrollment from your home university

confirmation of supervision by your KIT supervisor

We do not need a passport photo or any other documents!
Within 4 to 6 weeks after the reception of the application documents, we will send you an admission letter and further instructions by email. Please make sure to also check your spam folder.
Your arrival
After your arrival at KIT, you have to enroll.
You should open a German bank account and transfer the semester contribution. You should have received instructions and the bank details for the transfer in an email together with your admission letter.

You should see a German public health insurance (http://www.karlsruhe.de/b3/gesundheit/krankenkassen.de) to either take out health insurance in Germany or to get a health insurance waiver. The expert at the health insurance will be able to help you with what to do.
Fill in the form under http://www.intl.kit.edu/download/Antrag_auf_Einschreibung_fuer_Zeitstudierenden.pdf.

With the filled in form, your German health insurance certificate or waiver, a passport photo and your proof of the semester contribution payment, you should go to the International Students Office to start your enrollment paperwork (Monday, Wednesday or Friday; 9.30am to 11.30am).