Du studierst am KIT und möchtest Lehrveranstaltungen an einer der Eucor-Partneruniversitäten besuchen?
Auf dieser Seite sind Informationen für KIT-Studierende zum Ablauf der Mobilität an den Eucor-Partneruniversitäten Basel, Freiburg Haute-Alsace und Strasbourg zu finden. Allgemeine Informationen zum Eucor-Studium findest du hier.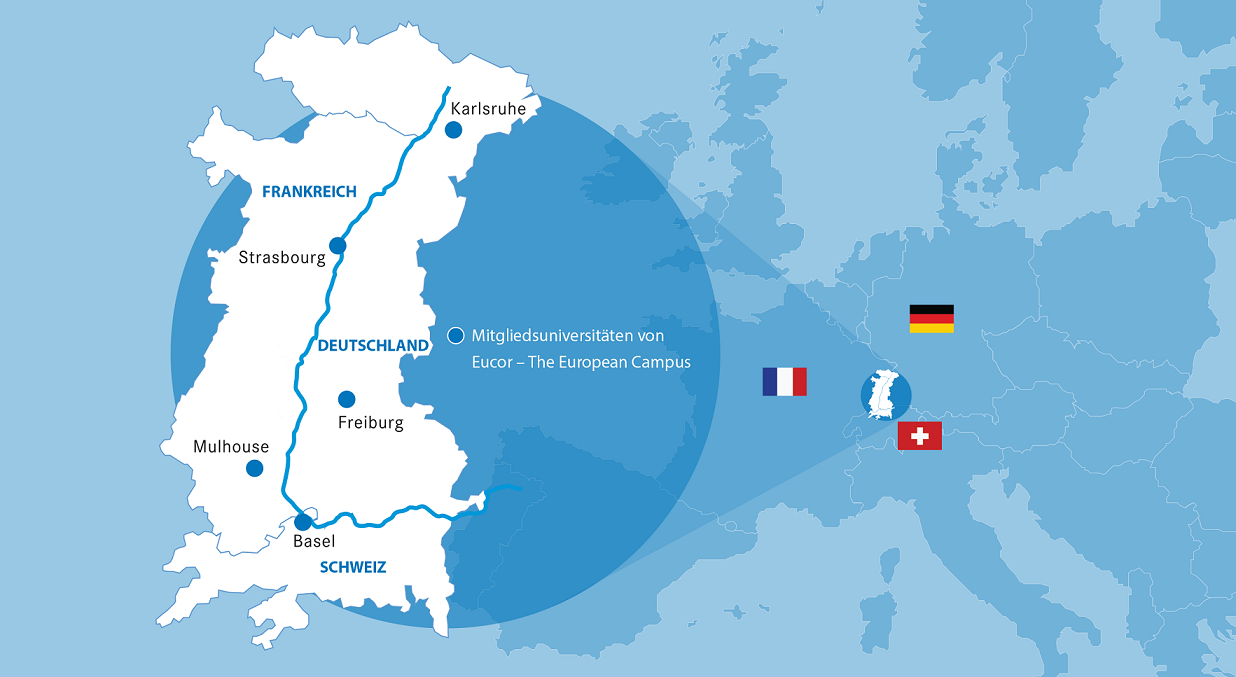 An welcher Eucor-Universität möchtest du studieren?
breites Studienangebot, thematische Schwerpunkte: Life Sciences, Bildwissenschaften,
Nanowissenschaften, Nachhaltigkeits- und Energieforschung,
European and Global Studies, internationales Renommee
ca. 13.000 Studierende
Albrecht-Ludwigs-Universität Freiburg
Volluniversität mit breitem Studienangebot, Mischung aus traditionellen Fächern und
moderner Technologie, u.a. Mikrosystemtechnik, Medizin, Naturwissenschaften, Geistes-
und Sozialwissenschaften, Nachhaltigkeit und Life Sciences
ca. 25.000 Studierende
an den Standorten Mulhouse und Colmar
lange Tradition im Fach Chemie, Lehrbereiche: Recht, Politik und Gesellschaft; Wirtschaft;
Interkulturalität; Digitalisierung und Industrie der Zukunft; Wissenschaften und Nachhaltigkeit, Schwerpunkte in Materialwissenschaften,Mobilität, Interkulturalität
ca. 11.000 Studierende
breites Studienangebot, Lehrbereiche: Kunst, Literatur- und Sprachwissenschaften, Geistes-
und Sozialwissenschaften, Rechts-, Wirtschafts-, Sozial-, Politikwissenschaften und BWL,
Wissenschaft und Technologie, Gesundheitswesen und Medizin, internationales Flair,
deutsch-französisches Angebot
ca. 50.000 Studierende
Wie funktioniert die Eucor-Mobilität für Studierende des KIT?
Registrierung
Bitte registriere dich zunächst im Portal Mobility Online am KIT, um alle wichtigen Informationen über die anstehenden Schritte für deinen Aufenthalt an einer Eucor-Partneruniversität zu erhalten. Zum Portal Mobility Online auf Deutsch. Zum Portal Mobility Online auf Englisch.
Mobilitätsart
Semestermobilität
Du verbringst ein ganzes Semester bzw. Jahr in Vollzeit an einer Eucor-Partneruniversität. In diesem Zeitraum belegst du ausschließlich Veranstaltungen an der Partneruniversität.
Punktuelle Mobilität
Du belegst eine (oder mehrere) Lehrveranstaltung(en) an einer (oder mehreren) Eucor-Partneruniversität(en). Im selben Semester besuchst du außerdem Kurse am KIT. Es ist beispielsweise möglich ein Blockseminar, ein Praktikum oder einen wöchentlichen Kurs an einer Partneruniversität zu belegen.

Manche KIT-Fakultäten bieten auch gemeinsame Seminare mit einer Eucor-Partneruniversität an. Diese Angebote sind dann direkt im KIT-Vorlesungsverzeichnis der Fakultät zu finden.
Neben dem Studienangebot kannst du mit Eucor auch die Dienstleistungen der Eucor-Partneruniversitäten nutzen wie z.B. Bibliothek, Mensa, spezielle Angebote der Eucor-Studierendenwerke, Veranstaltungen des Career Service oder gemeinsam organisierte Angebote wie das Eucor-Festival und die Tour Eucor.
Lehrangebot
Informiere dich auf den Internetseiten der Eucor-Universitäten über das Lehrangebot. Genauere Informationen zum Lehrangebot nach Universität findest du weiter unten auf dieser Seite.
Beachte bei deiner Kurswahl die unterschiedlichen Semesterzeiten in Frankreich und der Schweiz:
Eucor-Learning Agreement
Vor dem Aufenthalt an der Gastuniversität musst du ein Learning Agreement abschließen. Bitte nutze das aktuelle Eucor-Learning Agreement und beachte die Erklärungen.
Lass dieses von der/m Verantwortliche*n der KIT-Fakultät (Fachkoordinator*in) und im Anschluss von der/m Verantwortliche*n der Gastuniversität unterzeichnen.
Das LA benötigst du für die Anerkennung der Studienleistungen an deiner Heimatuniversität.
Belegst du nur Kurse aus dem Bereich des überfachlichen Angebots (Zusatzqualifikationen, Career Service), die du nicht anrechnen lassen möchtest, ist das Abschließen eines Learning Agreements nicht notwendig.
Fahrtkostenzuschuss
Vor Beginn des Eucor-Studiums kannst du einen Fahrtkostenzuschuss beantragen. Dies erfolgt im Portal Mobility Online. Auch für außerfachliche Angebote, Praktika und spezielle Eucor-Veranstaltungen kann ein Fahrtkostenzuschuss beantragt werden.
Nach Veranstaltungsende bzw. Ende der Eucor-Mobilität musst du die Belege und einen Nachweis, dass du an den Veranstaltungen teilgenommen hast ( Transcript of Records, Teilnahmebescheinigung) im Portal Mobility Online hochladen.
Je nach Verfügbarkeit der Mittel können die Fahrkosten (i.d.R. Regionalzug, eine Hin- und Rückfahrt pro Woche) bis zu 100% erstattet werden.
Fragen
Bei weiteren Fragen melde dich gerne beim Eucor-Team am KIT per E-Mail. Du kannst dort auch direkt einen individuellen Beratungstermin vereinbaren oder an der offenen Sprechstunde per Zoom teilnehmen: immer montags, 15:00-15:30 Uhr.