Exquisite timing is everything: ICT meets ART MOU between NICT and KIT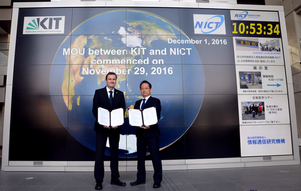 Dr. Erik Bründermann (KIT, left) and Dr. Iwao Hosako (NICT, right) in the entrance hall of NICT headquarters in Tokyo, Japan, a few days after the final signatures completed the MOU between NICT and KIT. Photo by Tomoya Yuki (NICT).
The Institute for Beam Physics and Technology (IBPT) at Karlsruhe Institute of Technology (KIT) and the Advanced ICT Research Institute at the National Institute of Information and Communications Technology (NICT) plan to combine research activities to employ and develop telecommunication concepts for compact, electro-optical and frequency tunable sensors usable in accelerator diagnostics.
The collaboration, initiated by Dr. Erik Bründermann (IBPT) and Dr. Iwao Hosako (NICT), is governed by a Memorandum of Understanding (MOU) signed by the presidents and vice-presidents of KIT and NICT, respectively. Both institutions shall encourage co-operation in the field of Information and Communications Technology (ICT) and Accelerator Research and Technology (ART) with consideration of lasers, topics of timing and synchronization, stability of systems, and data science.
The MOU was negotiated during the "JSPS Invitation Fellowship for Research in Japan" award of Dr. Erik Bründermann from October 4th to December 2nd, 2016. He received the award from the Japan Society for the Promotion of Science (JSPS) to conduct research in Japan for 60 days. His host was Dr. Iwao Hosako, Director General of the Advanced ICT Research Institute at NICT, Tokyo, Japan. NICT is Japan's sole National Research and Development Agency specializing in the field of information and communications technology, is also distributing and maintaining the Japan Standard Time (JST).
Dr. Bründermann also spoke during the 5th Club meeting of the German JSPS Alumni Association at JSPS headquarters in Chiyoda-ku, Tokyo. The presentation was entitled "Exquisite Timing is Everything: ICT meets ART", which reflected that various research fields today are aiming at signals or information transmitted as pulses or bits in ever shorter time periods at ever higher frequencies, towards terahertz frequencies and exceeding terabits per second.
Information, generation and detection of signal pulses in the terahertz range will be increasingly easier, if high-precision timing methods and standards are employed. Thus, information corresponding to a fully-recorded Blu-ray DVD could be transmitted within fractions of a second. The award recognized that information and subsequent technologies penetrate every area of technology-driven research, even at first glance very diverse research fields. During the fellowship in Japan more than a dozen electro-optical devices were fabricated in NICT's cleanroom and advanced laboratories with the support of NICT researchers. The full procedure of fabrication from wafer to device, electrical and optical evaluation was completed within the JSPS-funded period.
Dr. Bründermann heads the department of accelerator research at IBPT. The latter is directed by Prof. Dr. Anke-Susanne Müller. Since 2009, he is also Honorable Guest Professor of Shizuoka University in Japan. Dr. Bründermann and Dr. Hosako are active in the field of terahertz techniques and technology for more than 25 years. In their early years, both conducted research on germanium semiconductor terahertz lasers in Germany and Japan, respectively.
The MOU between NICT and KIT was fostered by Tomoya Yuki of the International Research Advancement Office in the Global Alliance Department at NICT and Oliver Schmidt of International Affairs at KIT.
Contacts / Links:
Oliver Schmidt, INTL, http://www.intl.kit.edu/coop/9178.php
Dr. Erik Bründermann, IBPT, http://www.ibpt.kit.edu/102_Erik-Bruendermann.php
Cooperating with Japan, http://www.intl.kit.edu/iforscher/8214.php